Need to get the most out of your office design?
Adaptable modular wall systems like moodwall P5 are the answer.
Created to maximize your design, moodwall P5 is composed of flexible modules of framed glass panels and solid panels. Multiple fascia options allow for limitless design possibilities. moodwall P5 is the ultimate architectural demountable wall solution by providing versatility for the modern office.

Modular wall systems
for functionality & elegance.
Sure, our design is sturdy. But that means nothing without a great team. With our top-to-bottom approach, our experts collaborate with you to find the perfect balance of function and beauty—and then we see it through with smooth installation.

Stunning combinations
moodwall P5 has multiple fascia options to allow for many design possibilities. You can blend glass with solid panels or try combinations of horizontal and vertical lines for your walls.

Configurable modules
Composed of independent modules, moodwall P5 is designed to maximize the creativity and flexibility of every space. This intelligent design allows for a beautifully finished installation with clean lines.

Transformative design
The modern office is always transforming. To facilitate evolution, moodwall P5's independent fascia modules can be switched out at any time. No need to remove adjacent parts and sections.

Easily adjustable
Thanks to adjustable levelers, P5 can be installed in nearly any application, with even the greatest floor and ceiling deviations. Maximized adjustability means adapting to uneven flooring is never an issue.

Trusted expertise
moodwall's team has a wealth of experience in the glass walls industry. We help you avoid the common mistakes we see time and again that either reduce performance, increase costs or create delays.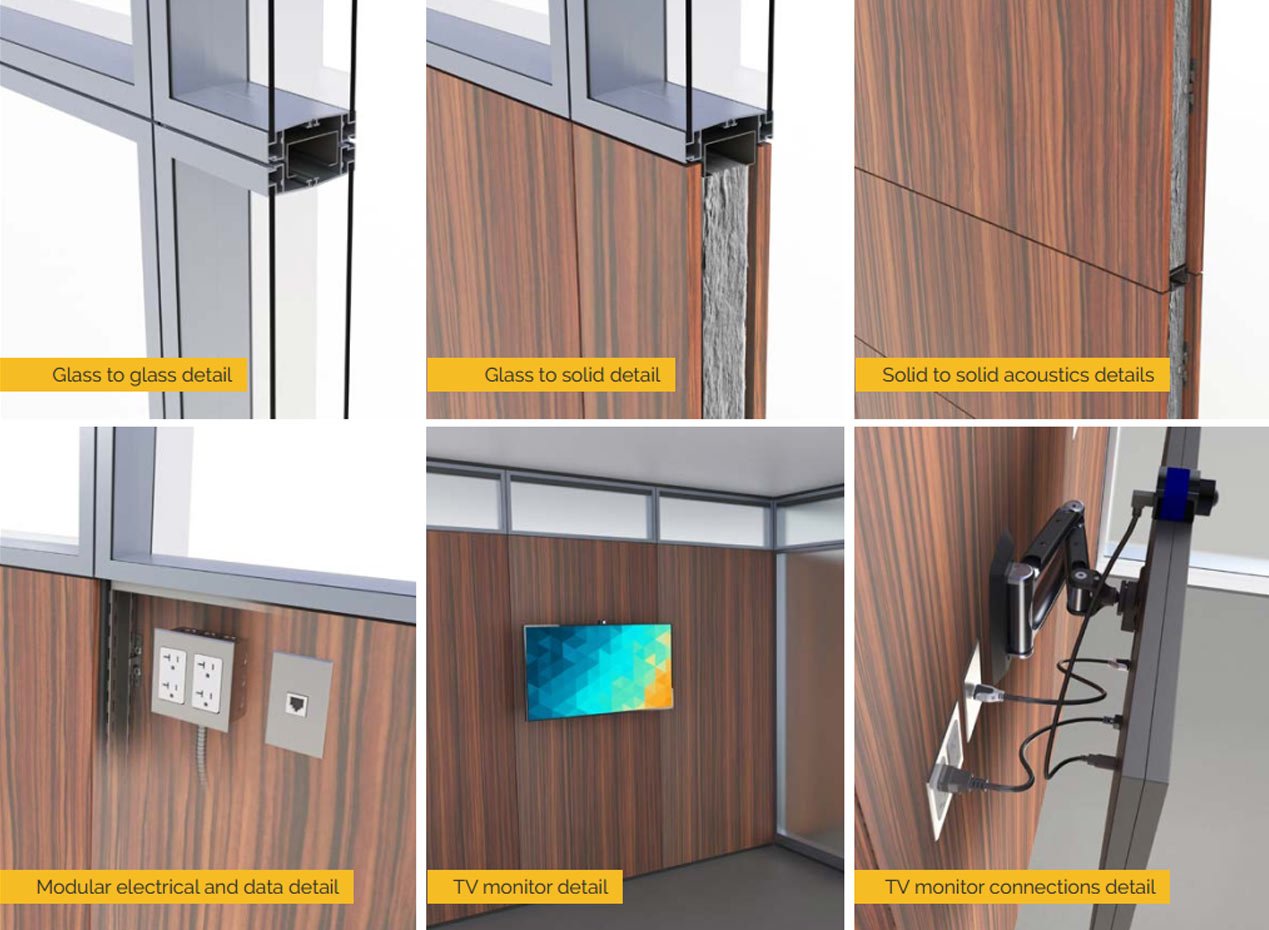 Glass wall
and door
features
Glass
P5 aluminum framed tempered double glass
¼" (6mm) panels
Acoustics
STC ratings range from 36 to 43 depending on glass type and solid panel combinations
Extruded vinyl connections and perimeter bulb seals provide seamless connections with drywall
Services
moodwall P5 inner cavity allows for electrical, data wiring as well as plumbing and gas line services
moodwall modular electrical components provide for a plug and play easy-to-relocate solution
Doors
Swing and sliding doors
Frameless glass slab
Framed double glazed aluminum
Framed single glazed aluminum
Solid and hollow core wood doors
Solid Panels
Choose from:
melamine
laminate
wood veneer
back-painted glass
markerboards
tackboards
acoustic panels
Choose the easy way for your glass office walls.
moodwall makes design and installation a breeze. Request a quote on our demountable walls for your project.