Looking for clean & simple office design?
Demountable office walls like moodwall P1 are what you need.
Give your space freedom. moodwall P1 is a demountable glass wall designed to enhance the contemporary workplace by maximizing clarity and transparency. It's a pure and simple architectural wall system created for people in the workplace.

Demountable wall solutions
for simplicity & stability.
Sure, our design is sturdy. But that means nothing without a great team. With our top-to-bottom approach, our experts collaborate with you to find the perfect balance of function and beauty — and then we see it through with smooth installation.

Minimalist design
These days, less is more. This wall adapts to all kinds of design approaches with its understated style. moodwall P1's minimalism is made to illuminate and enhance every environment's natural beauty.

Strong acoustics
Block out the noise. moodwall P1 promotes productivity in private environments and closed offices. The panel composition has cutting-edge acoustic properties that ensure minimal distractions.

Intelligent features
Seamless technology for the future you need now. moodwall P1 is compatible with electric strikes, mag locks, card readers, soft open and soft close sliding doors, and more.

Demountable by design
moodwall grows with you. Our demountable walls keep pace with the evolution of your workspaces. We know nothing is permanent, so we made it easy to modify your wall systems to adapt to new needs.

Trusted expertise
moodwall's team has a wealth of experience in the glass walls industry. We help you avoid the common mistakes we see time and again that either reduce performance, increase costs or create delays.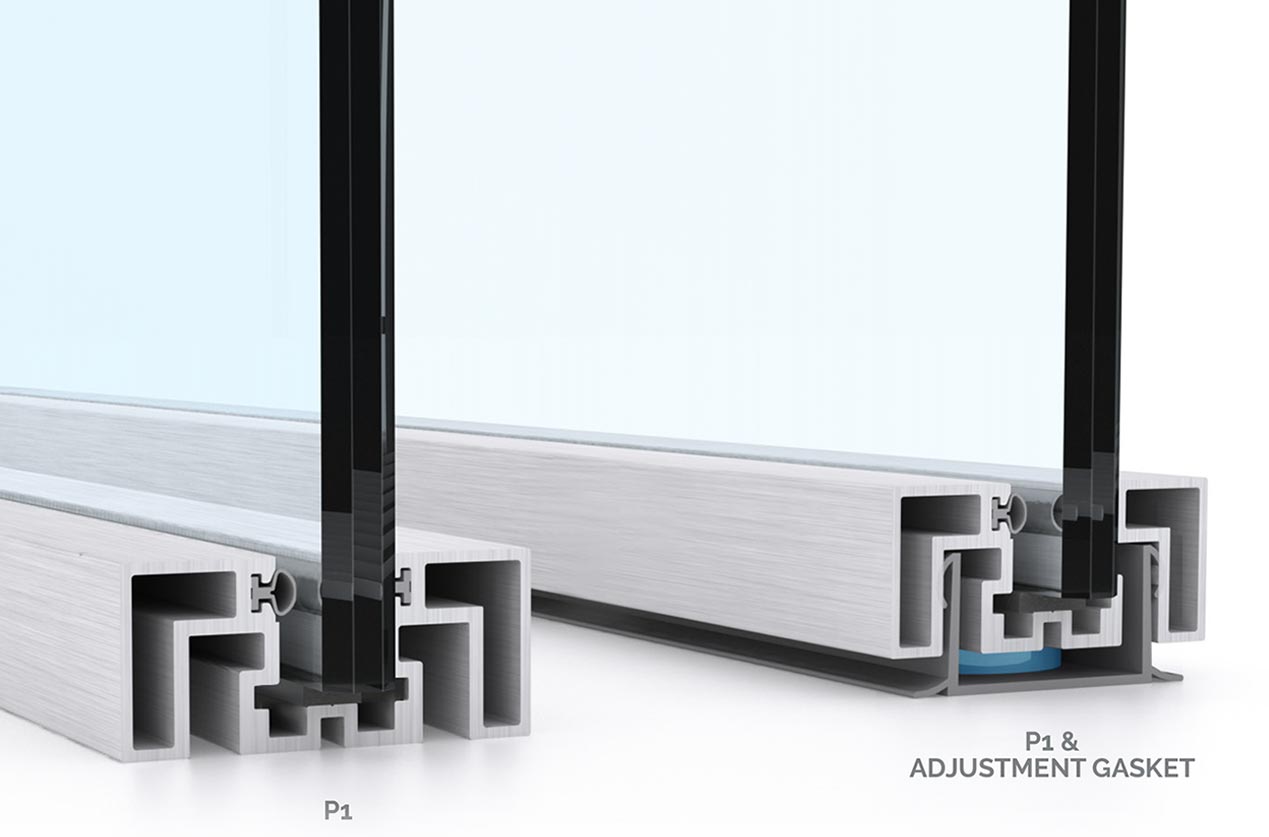 Glass wall
and door
features
Framing
moodwall aluminum extrusions in clear anodized, colored anodized or powder coated paint finishes
P1 floor channel 1" high by 2 ¼" wide
P1 ceiling channel 2 ⅜" high by 2 ¼" wide
P1 & adjustment gasket floor channel 1 ¼" high by 2 ¼" wide (compressed)
Doors
Swing and sliding doors
Frameless glass slab
Framed double glazed aluminum
Framed single glazed aluminum
Solid and hollow core wood doors
Glass
⅜" (10mm) or ½" (12mm) with choice of :

tempered
laminated
low iron

Polycarbonate or butted glass joint
Hardware
moodwall exclusive:
SERE mortise lock for glass slab door
P1 sliding door with soft close soft open option
KERE 60" locking ladder pull with SFIC 7-pin interchangeable core
Hydraulic hinge with soft close and hold open option
Acoustics
STC ratings range from 27 to 35 depending on glass type
Extruded vinyl connections and perimeter bulb seals provide seamless connections with drywall
Choose the easy way for your glass office walls.
moodwall makes design and installation a breeze. Request a quote on our demountable walls for your project.